| | |
| --- | --- |
| Swinney talks ACC opener, updates Clemson DT injury status | |
---
| | |
| --- | --- |
| Wednesday, September 19, 2018 12:27 PM | |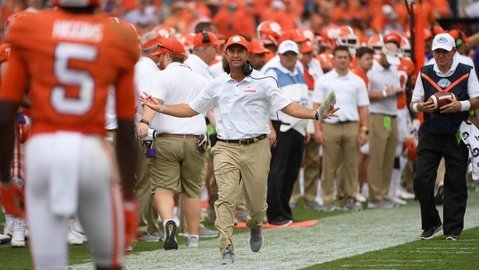 Clemson coach Dabo Swinney updated the latest with his team on the Wednesday ACC coaches' teleconference:
DABO SWINNEY: For us, jumping into conference play this week, we've had three good weeks, kind of first quarter of our season, if you will, to grow our team, learn a lot about ourselves, things we got to continue to do well, things we need to improve on.
I think it's the seventh year in a row we've gone on the road for our conference opener. This is going to be a tough challenge for us for sure. Georgia Tech is coming off a tough loss. Really they're a couple plays away from being 3-0 literally. This is a talented team, prideful team, a well-coached team. Atlanta is a place that's always been tough. This is a great rivalry.
But we're excited about it. We know for us to achieve our next goal, which is to win the division, we're going to have to play well on the road in this conference as we start this eight-game stretch coming up in conference play.
Like where our team is. So far I feel good about our week of practice, where the guys are in their mental approach to what we got to do this week.
Q. How many days a week during the season are you in full pads? Does that taper off at all as the season progresses?
DABO SWINNEY: Yeah, we will taper later in the season on certain things. But we're always in full pads on Tuesdays, then we go in shells on Wednesdays, which is just shoulder pads. Mondays, Thursdays we're in basically shorts. We do wear we call it a vest, just a little thin layer of protection on their shoulders, just protect them from bumping into somebody, if they fall. We're really only in pads on Tuesday, Wednesday, but full pads on Tuesdays.
Q. Update on when you expect to get Jordan Williams back?.
DABO SWINNEY: He's kind of day-to-day, progressing well at this point.
Q. The ACC and the CFP are celebrating Extra Yard for Teachers. Can you give us an idea of how teachers impacted your life.
DABO SWINNEY: Oh, yeah. I mean, I grew up in a small town. Certainly when I was there in Pelham, Alabama. I was fortunate that I was able to grow up there in one place. I didn't have to move around as far as changing schools, things like that. Then I had two older brothers. I was the baby of three boys. I got to know a lot of the teachers along the way. By the time I got to the next grade or whatever, most of them knew me because I had been around, my brothers had been there and stuff.
Man, I tell you, from my own just personal background as far as things that I kind of grew up in as a kid, my teachers were a huge part of just shaping me and encouraging me, helping create the drive in me and the discipline.
I remember all my teachers, from my kindergarten teacher, Miss Payne, to my first grade teacher, Miss Puckett, my second grade teacher, Miss Wilder, my third grade teacher. I could go on and on. Another Miss Payne in the fourth grade, Miss Autry in the fifth grade, Miss Andersen in the sixth grade, Miss Smith in the seventh grade. I was so blessed. I had so many great teachers that really just poured into me. That's what teachers do.
Then we call coaches coach, but coaches are teachers. They're teaching a game just like a teacher teaches a subject. A teacher may teach math, and coaches teach football. But you're using that to also prepare them for life. I've been so fortunate in my life, so many different coaches and teachers. A lot of them I'm still in touch with to this day. I'm very, very fortunate for the people who poured into my life academically and athletically along my journey.
That's kind of what I see in myself today with the opportunity I have, I see myself as a teacher. Yes, I'm teaching a game, but I'm also teaching young people how to do what's right, how to become a man, how to handle adversity, sacrifice, be a good teammate, help them think through some things, see the bigger picture of life.
Q. Could you kind of give us an update, K' Von Wallace, how has he developed for you, how important is he for you in your secondary?
DABO SWINNEY: He's doing awesome. I mean, we're just really a total transformation. Played as a freshman, a good player for us. Last year you kind of saw him really kind of coming into his own. Just that experience and his understanding of what it takes, just the transformation mentally, his mindset this spring and this summer, what he has to do to be a great football player.
It's been awesome. I mean, just watching him practice, he comes to practice with a lot of energy. He's just very confident in what he's doing. He has worked incredibly hard to develop his body. He's fast. He's physical. I mean, he's we feel one of the best players we have. He's one of the best players we've had come through here, to be quite honest with you. He has the potential to leave here as one of those better guys that has played in this secondary for us.
The thing I like about him the most is just the fact of his energy, how he practices every day. He likes to play, and he's taken on a leadership role in this football team this year, which has been very needed.
Q. We were looking at the end of the A&M game, he had the flukey play that led to a touchdown, comes back, makes a big play. What does it say about him that he's able to move on from something this didn't go his way there?
DABO SWINNEY: Yeah, it's huge. That play is a great teaching lesson really for both sides, both teams. I used it that way for sure. If he doesn't just go the next play, if he doesn't give the type of effort there, then there is no drama. He created that drama. He went and he literally punched the ball out and created the whole deal. He didn't give up on the play.
That's such a great example to his teammates.
Q. Graham Neff, Georgia Tech graduate. What has he done the most for your football team as well as administrator?
DABO SWINNEY: Wow, I'm getting a Graham Neff question. Is this like his uncle or something? I'm going to have to tell him about this.
I love Graham. We keep him on a high alert when we play Georgia Tech. He's been awesome for Clemson, he really has. He's been awesome for Dan Radakovich. He's kind of his right hand man. Graham is such a great liaison. There's a lot of times I talk to Graham, if it's something I don't need to bother Dan with or whatever. He just has a great demeanor. He's very intelligent. He understands college athletics. He's just awesome to work with.
First time I met him, I don't know, maybe he's been here four, five years. First time I met him, I thought he was a student because he looked really young. I think he has really enjoyed his experience here at Clemson. We certainly have enjoyed him and his family.